VRS Seniors Communities and Advantage Assist are thrilled to celebrate Garneau Hall's very own Lyle Ison, who out of 15 finalists from across the province, is the recipient of the 2022 "Alberta Care Provider of the Year" Award. Lyle has served as General Manager at Garneau Hall Seniors Community in Edmonton (off Whyte Avenue) for nine years.
A celebrated accolade, the "Alberta Care Provider of the Year" is picked from a pool of nominees that work in all levels of care – making this award no small feat. The Alberta Continuing Care Association (ACCA) celebrates top talent in Alberta's continuing care providers each year, holding this year's awards ceremony this past September in Red Deer, Alberta where Lyle was recognized.
"We are quite lost for words and we are so grateful for Lyle! She is very deserving of this honour," said Andrew Trinder, Director of Senior Living for VRS Communities. "Her impressive strengths are reflected in how her property and team are united and performing and how overwhelmingly satisfied the residents and families are at Garneau Hall. Garneau Hall not only excels under her leadership and care, it is also a first choice for Edmonton's seniors when looking into community living lifestyles."
In a written nomination for the award, Jun Odtojan, Lyle's former coworker, described her as a "humble and helpful person." Jun recalled a time when this was recognized in her submission: "One of the oldest residents in Garneau Hall asked if someone could sew her a night dress. The laces of her dress were already torn and the dress was a gift from the resident's mom. Without any hesitation, Lyle took herself to sew the dress, which absolutely delighted the resident."
We would be remiss to talk about Lyle's achievement without also mentioning that this is not the first time an Advantage Assist and Garneau Hall staff member has won "Alberta Care Provider of the Year."
In 2017, Brody Williams, Recreation Therapist with Advantage Assist at Garneau Hall, also received the "Alberta Care Provider of the Year" award. His merits for this award are numerous, but, in particular, his passion and dedication to improving the Quality of Life of residents with Dementia and Alzheimer's is inspiring.
Brody uses a variety of recreation programs, but uniquely favours the use of music in his interactions with residents diagnosed with Dementia and Alzheimer's. His coworkers describe him as a "positive, happy, dedicated, and knowledgeable person who goes above and beyond to develop therapeutic relationships with each individual resident in the hopes of bettering their lives."
Congratulations Lyle and Brody, we can't think of better recipients for this award and commend you for embodying the values of VRS Communities in creating a new way forward for Edmonton's Seniors.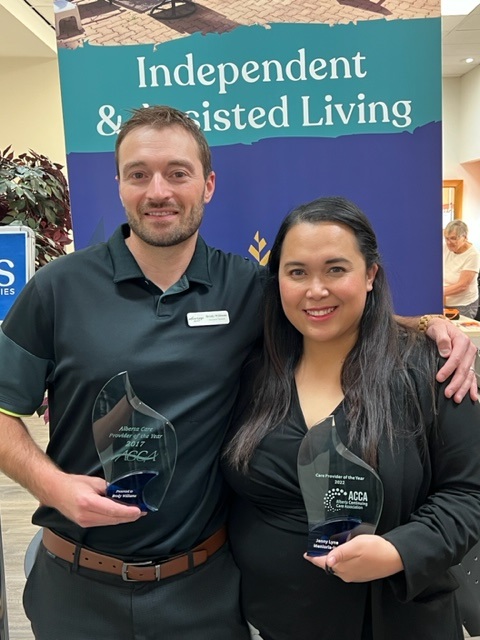 – – – – – –
Garneau Hall Seniors Community is owned and operated by VRS Communities, a non-profit society celebrating 50 years of bringing inclusive and accessible housing to the community. At VRS we believe in building communities where everyone experiences belonging, growth and independence.
For more information on independent and assisted living in British Columbia or Alberta, check out one of our eleven seniors living locations:
Lakeside Gardens in Nanaimo
Ross Place in Victoria
Pacific Carlton in White Rock
Sunnyside Manor in White Rock
Orchard Gardens in Kelowna
Sunshine Ridge in Osoyoos
Silver Springs in Vernon
Charles Manor in Penticton
Andover Terrace in Salmon Arm
Shuswap Lodge in Salmon Arm
Garneau Hall in Edmonton