Welcome to a new way forward with us
Because seniors deserve our very best
With almost 50 years of experience raising standards for affordable living in British Columbia, we're focused on carrying this promise through to our Seniors residences. We're new, and we're listening – to what our seniors want, to what they need and most importantly, to how they like to live.

VRS Communities is a non-profit organization, meaning every dollar we earn goes back into your quality of living. With an invested business approach, we stand by our commitment to provide quality housing and services and continue to look for new ways forward to improve the lives of our seniors. Service is at the heart of what we do and we're here to work for you. We stand by our five-star service guarantee and believe in creating an experience that is best-in-class for our residents and their families.

VRS Seniors Living is about you. And that's our promise.
BCSLA Seal of Approval
All VRS Seniors Communities have BC Seniors Living Association's Seal of Approval Designation and we are currently members in good standing within the Association. This designation is an industry-regulated program that represents the highest standards of safety, security and services to the families of the seniors that live in independent and assisted living retirement communities in BC.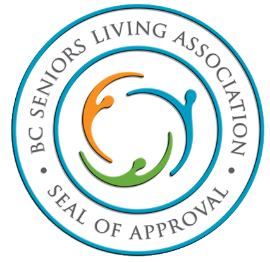 Seniors Living Program
Are you a team player, looking for a competitive wage, great benefits and an amazing place to work? If so, we may have the opportunity you are looking for!
we do housing differently
we do housing differently
we do housing differently
we do housing differently